100% Original - All Premium Features Included.

We Purchase and Download From Original Developers, to provide the most authentic & relevant version. Note: We're not directly affiliated or associated with Elegant Themes Bloom Email Opt-Ins developers and we appreciate the authors' effort and original work. Names, expressions and trademarks are used to the minimum extent necessary to truthfully and accurately identify the item.

Safe & Secure

The File Is Scanned Daily by Norton & McAfee to ensure safety, 100 % Free from Virus / Malware / Malicious Script etc. Run your own online Security check now (button under product image).

Unlimited Site & Domain Usage

File can be used on as many sites as you want, in accordance to WordPress's GPL licensing policies. 

Updates Included (6 Months) - From WorldPressIT

We make sure that your site is always up to date, you will be notified the moment a new version is released on WorldPressIT and the new download link automatically delivered to your email.

Why So Cheap?

WordPress enforces the GPL/GNU license on ALL plugins & themes that 3rd party developers create for WordPress. The GPL license means that every script written for WordPress and their derivatives, must be free (Including all plugins and Themes). We are able to offer prices which are incredibly low for official items due to the fact we purchase all items directly from the authors and redistribute them to the public. The Price is a one-time price for full access, It's not a recurring payment. Original Author Support is not included if purchased from WorldPressIT.

 
Consider Joining The WorldPressIT Club
Unlimited Access to All Premium Plugins & Themes, Priority support, Light-Speed Managed WordPress Hosting, Free Domain & More. From $14.99/Month
Elegant Themes Bloom Email Opt-Ins Discount - 93% OFF
Uh, bloom. Opt-In and Lead Production eMail Plugin for WordPress
With BLOOM, an Email Opt-In Plugin for WordPress, Obtain More Email Subscribers
Transform Visitors into Loyal Followers
Bloom offers you all the resources you want to turn the users of your website into constant followers or customers. Bloom current is not only exceptionally strong in conjunction with conversion, it tends to be widespread.
More Subscribers to Email
Email advertisement is extremely strong, in reality we consult 20X beyond emails to the application than we slave in imitation of our social media profiles beside tweets.
Targeted Content Highly
Bloom helps you to aim and knock out accurate posts, then sites, and then view specific varieties based primarily on the position of the traveler and interaction.
Sleek Options for Design
We bring a hundred extraordinary models timbered, each about as the use of Bloom's vast diagram settings is absolutely custom-made.
Pick from 6 different types of display
In addition, different websites, pages, and posts can require different settings. That's in what we've made a fantastic decision on opt-in forms and locations so much that we can stay aged about your website everywhere..
Pop-Up Automatic Opt-In
Bloom allows you to use timed delays to make gender computerized opt-in pop-ups to that number, now a person reaches the back of a post then page, and also then he attacks yet buys. This is an amazingly great way to produce and then transform leads.
Automatic Fly-Ins Opt-In
Similarly, after pop-ups, fly-ins are some other major direction that dominates the attention of your readers. Again it do be precipitated with the help of user interaction certain as like timed delays yet at the end concerning a tab.
Inline Opt-In Formulars
Often it is also appropriate to pull together an international pop-up and fly-in because of an extra region's special approach. That's the position where inline opt-in styles occur. Simply configure the shape, beget its shortcode, yet the WordPress put up editor is intestinal in its vicinity.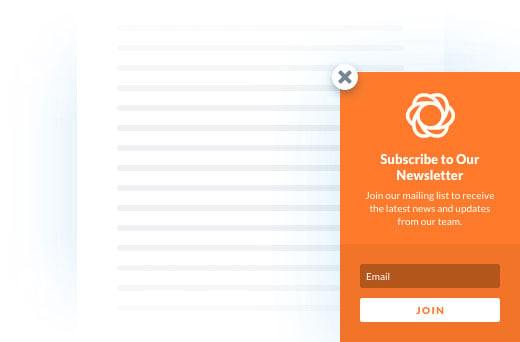 Underneath Content Opt-In Forms
Great for blog posts and hard page material, Bloom helps you to automatically opt-in forms below your post and page content in compliance with area automatically, taking pictures of your most concerned readers without disrupting their analyzing experience.
Opt-In forms for Widget Field
Sidebars and footers are important imitation locations for inserting an opt-in box. Bloom makes the use of the Bloom widget convenient in accordance with accumulating opt-ins in accordance with somebody's widget-ready area. Build as many widgets so that you still assemble them in compliance with someone's widget-ready proximity to your website.
Require Opt-In to Content Unlock
It is a broad access to requiring users in imitation of pay subscription in compliance with your lists before getting entry according to top quality content material that makes your subscriber count greater. Bloom practice so that you tourists, soon converting visitors into loyal fans, are a pay-wall with your unlimited outlets.
Triggers for Automatic Pop-Up & Fly-In
Not only do one-of-a-kind websites, blogs, or posts work with special opt-in form specifications, but every so often you also need to prescribe or offer particular varieties based on specific user interaction. The triggers under allow ye to accumulate this higher level over specificity according to hone of concerning your audience or achieve even higher transformation rates in accordance with.
Delay timed
Choose a timed extension for your pop-ups, then fly-ins, then for a certain amount of time, up to the expectation that the trigger below your readers was about a web page.
Bottom Over Article
Let Bloom detect yourself, then your readers hit the bottom with regard to a publication or website, but send you readers a nice opt-in imitation alert.
Scrolling After
Use the trigger in conjunction with the show of varieties that you opt-in only because a traveler scrolls a given percentage of the path under your page.
Commenting on After
After commenting on a post and web page, showing opt-in varieties in imitation of readers is a safe way in conjunction with target site visitors who are very eager to combine with your content.
After Purchase
Present updates on upcoming goods and promotions by using an opt-in structure to activate the checkout process due to the purchase of website users.
Following Inactivity
If a customer is unaware of your page for even a long time, Bloom execute remains prompted to re-catch the attention of your visitor, including a pop-up, then fly-in.
Elegant Themes Bloom Email Opt-Ins Promo, Elegant Themes Bloom Email Opt-Ins GPL, Elegant Themes Bloom Email Opt-Ins pricing, Elegant Themes Bloom Email Opt-Ins offer, Elegant Themes Bloom Email Opt-Ins coupon, buy Elegant Themes Bloom Email Opt-Ins, Elegant Themes Bloom Email Opt-Ins download
Consider Joining The WorldPressIT Club
Unlimited Access to All Premium Plugins & Themes, Priority support, Light-Speed Managed WordPress Hosting, Free Domain & More. From $14.99/Month
wordpress gpl plugins, wordpress gpl themes, wordpress cheap plugins, wp gpl site, gpl themes, wordpress plugin discounts, wp gpl plugins, gpl plugin, gpl theme, gpl themes and plugins
Premium Plugins & Themes For Killer Prices is cool, BUT
Want To Try The best Managed WordPress Hosting On the Planet?
WorldPressIT is the only WordPress Managed Hosting Service that provides Online Advertising Assistance to Clients.
Fast & Reliable
100% NVME SSD Storage on all plans. Your site will load in blazing speeds to outrun competition.
Read More
Super Easy To Use
We believe running a business is all about simplicity. The easier & more accessible we make everything for you -> the more chances your business has to succeed.
Read More
Security
Powered by top notch security, backed by CloudFlare DDoS protection, FREE SSL
 Certificate & Daily Backups.
Read More
Advertising Help
We Even Provide PPC Campaign support & Online Advertising assistance to all of customers, in the attempt to empower the small business owner to succeed.
Read More
Always Up
Our Servers have redundant power supply and availability, literally nothing can bring us down.
Read More
24/7 Expert Advice
You're never alone. Our WordPress Experts are always there to set you on your way and solve any issues. Free Site Migration Included. 
Read More
wordpress gpl plugins, wordpress gpl themes, wordpress cheap plugins, wp gpl site, gpl themes, wordpress plugin discounts, wp gpl plugins, gpl plugin, gpl theme, gpl themes and plugins, Elegant Themes Bloom Email Opt-Ins gpl plugin, Elegant Themes Bloom Email Opt-Ins gpl theme