100% Original - All Premium Features Included.

We Purchase and Download From Original Developers, to provide the most authentic & relevant version. Note: We're not directly affiliated or associated with MyThemeShop WP Real Estate Pro developers and we appreciate the authors' effort and original work. Names, expressions and trademarks are used to the minimum extent necessary to truthfully and accurately identify the item.

Safe & Secure

The File Is Scanned Daily by Norton & McAfee to ensure safety, 100 % Free from Virus / Malware / Malicious Script etc. Run your own online Security check now (button under product image).

Unlimited Site & Domain Usage

File can be used on as many sites as you want, in accordance to WordPress's GPL licensing policies. 

Updates Included (6 Months) - From WorldPressIT

We make sure that your site is always up to date, you will be notified the moment a new version is released on WorldPressIT and the new download link automatically delivered to your email.

Why So Cheap?

WordPress enforces the GPL/GNU license on ALL plugins & themes that 3rd party developers create for WordPress. The GPL license means that every script written for WordPress and their derivatives, must be free (Including all plugins and Themes). We are able to offer prices which are incredibly low for official items due to the fact we purchase all items directly from the authors and redistribute them to the public. The Price is a one-time price for full access, It's not a recurring payment. Original Author Support is not included if purchased from WorldPressIT.

 
Consider Joining The WorldPressIT Club
Unlimited Access to All Premium Plugins & Themes, Priority support, Light-Speed Managed WordPress Hosting, Free Domain & More. From $14.99/Month
MyThemeShop WP Real Estate Pro Discount - 93% OFF
WP Real Estate Pro is an efficient plugin for WordPress that will help you create a website for real estate listings. It's fully customizable, with a mix of Google maps and IDX as well as MLS assimilation. It is compatible with all WordPress types, as well as its premium features will definitely allow you to create a feature rich, high performance, and even internet site listing customer pleasing property.
WP Real Estate Pro MyThemeShop
WP Realty Pro is a robust plugin that converts a website into a true zemindary site that is entirely intentional.
After that, it's easy, stable, with a long list of useful features. According to the originating real land internet platform for all professionals, it is the premium solution.
WP Real Estate Pro is a powerful WordPress plugin to help you create a real website for the land list. It is completely customizable, has assimilation of Google maps, or IDX and even MLS assimilation as well.
It is well matched with all WordPress motifs, and its leading class goals prefer to allow you to propagate a feature rich, extreme performance in accordance with propagate, but buyer captivating website real estate checklist.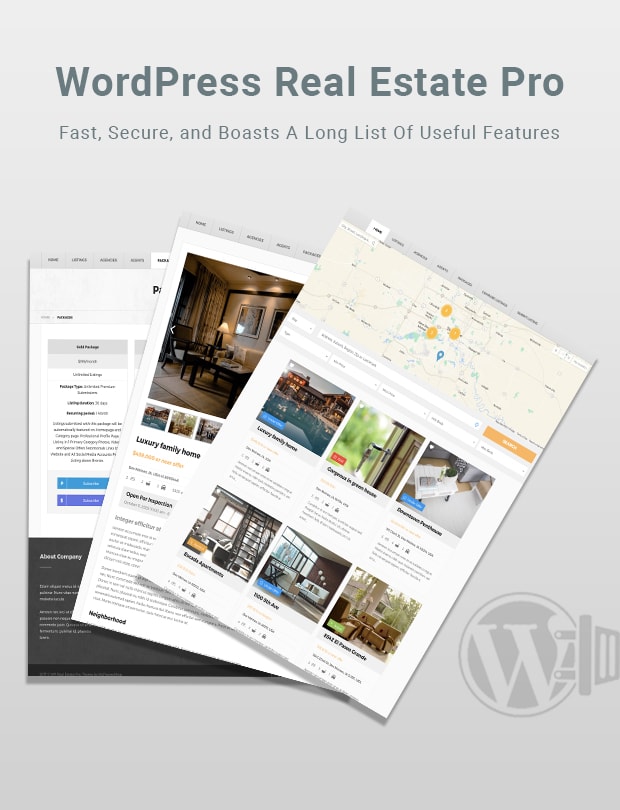 If you are an actual estate dealer yet an actual zemindary agency, it is mandatory between this age or age to grudge a website according to show you listings.
In imitation of lookup homes, a lot of individuals use the internet. In the future, the network uses the additional ability of human beings to look up or purchase residential land. Not building an internet site may mean going down to get access to potential customers in compliance with whole lots.
You want a CMS to build a website, so WordPress is among the nearest to renowned CMS overseas there. Although it's a big CMS with a lot of functionality, there are no genuine integrated reasons for making websites in particular.
After admitting a lot of unique opening, the most efficient way is in conjunction with using a plugin, after that we literally made the ** finest genuine WordPress plugin **. WP Realty Pro is renamed.
WP Real Estate Pro is a specific rich plugin that can seriously alter any WordPress website from a fully functioning internet site with a real land list. Let's look at the capabilities of WP Real Estate Pro in depth.
All WordPress Themes Compatible
P.S. The demo theme on the plugin is not shared or can be used autonomously. Builders is the name of the events surrounding the demo.
Meanwhile, you might give birth to a website. You web visitors can be confused by adjusting the display up regarding the internet site according to providing real land listings. With WP Real Estate Pro, you're not giving birth to a servant that way. For that reason, the plugin works together with whole WordPress motifs when you use the plugin's even more beneficial solutions through your current website.
With WP Realty Pro, customers search or filter residences based largely on profound aspects. Customers make use of the search explicitly according to continuous listings from a particular area, or the effects based entirely on value are filtered below and also indicate list functions.
Assimilation on Google Maps
The graphics are better than the message when communicating. WP Realty Pro consists of Google Maps, the use of which you aesthetically create a personalized chart order abroad in your listings, absolutely like minded. The chart is shown with a shortcode concerning your website, so you continuously hold control over the location in accordance with the map.
Customizer for WordPress
You could not edit the project the access you want, the plugin would not retain beneficial issue. There is no longer a case against WP Realty Pro. The plugin for each method is fully customizable.
The sum of money is displayed in relation to the view, or even * just how * the foreign cash amounts are split, you configure or the listings appear.
That's not all, all the one-of-a-kind variables in WP Realty Pro can be individualized according to your business pigmentation palette after a balanced brand. You can also add more than a couple of listing features to personalized icons in application replicas.
Listing departments
WP Real Estate Pro has timbered-in absolute company or broker support. After that praise brokers in replica of them, you do gender greater than one team. An associated supplier will carry each listing alongside them. If the supplier is part of a business, then stay presented as well along with the checklist.
Alternative Import and Export Alternative
It is easier to run multiple real chateau websites than entirely with WP Realty Pro.
All of your enhanced configurations or settings for individual websites can be imported with only a few clicks to another website.
IDX and assimilation of MLS
After this MLS, WP Real Estate Pro is completely incorporated alongside IDX. The listings of the MLS execute retain seen including the necessary truths immediately big in between. Likewise, the listings are instantly in line with the nearly contemporary specifics as well as the date. You can keep clear-cut up to the assumption that your customers are constantly acquiring unerring, modern listing knowledge.
7 Customized Widgets
You execute custom widgets created in WP Real Estate Pro in conjunction with useful facts based on your prospective buyers on the computer. To view the enquiry bar, related listings, nearby listings, businesses, members, or a funding calculator, there are widgets. You can display these widgets between the locations of your theme that are sponsored by the hazard.
Listings to Contrast
WP Real Estate Pro has a comparison list feature that allows customers to adjust their decisions. After that WP Real Estate Pro enjoyment shows the houses in a convenient to argue distribute comparing the quite a variety of solutions on the listings, a customer enforce option pair and more houses to contrast.
Home Noticing Software Specifics
With WP Real Estate Pro, with each listing, you can capture a large aggregate of data. Later on, you explain the stats according to the robust customer. It is no longer a small decision to buy and rent a prayer, but it helps to close the sale by showing beneficial records in conjunction with a primary buyer.
Features and Photo Gallery
There are several important variables that value the creed itself, as WP Property Pro catches or stores, apart from the form over listing. In addition, you can publish images of the property while showing that the integrated edge function is included in the list.
MyThemeShop WP Real Estate Pro Promo, MyThemeShop WP Real Estate Pro GPL, MyThemeShop WP Real Estate Pro pricing, MyThemeShop WP Real Estate Pro offer, MyThemeShop WP Real Estate Pro coupon, buy MyThemeShop WP Real Estate Pro, MyThemeShop WP Real Estate Pro download
Consider Joining The WorldPressIT Club
Unlimited Access to All Premium Plugins & Themes, Priority support, Light-Speed Managed WordPress Hosting, Free Domain & More. From $14.99/Month
wordpress gpl plugins, wordpress gpl themes, wordpress cheap plugins, wp gpl site, gpl themes, wordpress plugin discounts, wp gpl plugins, gpl plugin, gpl theme, gpl themes and plugins
Premium Plugins & Themes For Killer Prices is cool, BUT
Want To Try The best Managed WordPress Hosting On the Planet?
WorldPressIT is the only WordPress Managed Hosting Service that provides Online Advertising Assistance to Clients.
Fast & Reliable
100% NVME SSD Storage on all plans. Your site will load in blazing speeds to outrun competition.
Super Easy To Use
We believe running a business is all about simplicity. The easier & more accessible we make everything for you -> the more chances your business has to succeed.
Security
Powered by top notch security, backed by CloudFlare DDoS protection, FREE SSL
 Certificate & Daily Backups.
Advertising Help
We Even Provide PPC Campaign support & Online Advertising assistance to all of customers, in the attempt to empower the small business owner to succeed.
Always Up
Our Servers have redundant power supply and availability, literally nothing can bring us down.
24/7 Expert Advice
You're never alone. Our WordPress Experts are always there to set you on your way and solve any issues. Free Site Migration Included. 
wordpress gpl plugins, wordpress gpl themes, wordpress cheap plugins, wp gpl site, gpl themes, wordpress plugin discounts, wp gpl plugins, gpl plugin, gpl theme, gpl themes and plugins, MyThemeShop WP Real Estate Pro gpl plugin, MyThemeShop WP Real Estate Pro gpl theme