100% Original - All Premium Features Included.

We Purchase and Download From Original Developers, to provide the most authentic & relevant version. Note: We're not directly affiliated or associated with Superfly Menu — Responsive WordPress Menu Plugin developers and we appreciate the authors' effort and original work. Names, expressions and trademarks are used to the minimum extent necessary to truthfully and accurately identify the item.

Safe & Secure

The File Is Scanned Daily by Norton & McAfee to ensure safety, 100 % Free from Virus / Malware / Malicious Script etc. Run your own online Security check now (button under product image).

Unlimited Site & Domain Usage

File can be used on as many sites as you want, in accordance to WordPress's GPL licensing policies. 

Updates Included (6 Months) - From WorldPressIT

We make sure that your site is always up to date, you will be notified the moment a new version is released on WorldPressIT and the new download link automatically delivered to your email.

Why So Cheap?

WordPress enforces the GPL/GNU license on ALL plugins & themes that 3rd party developers create for WordPress. The GPL license means that every script written for WordPress and their derivatives, must be free (Including all plugins and Themes). We are able to offer prices which are incredibly low for official items due to the fact we purchase all items directly from the authors and redistribute them to the public. The Price is a one-time price for full access, It's not a recurring payment. Original Author Support is not included if purchased from WorldPressIT.

 
Consider Joining The WorldPressIT Club
Unlimited Access to All Premium Plugins & Themes, Priority support, Light-Speed Managed WordPress Hosting, Free Domain & More. From $14.99/Month
Superfly Menu — Responsive WordPress Menu Plugin Discount - 93% OFF
Superfly is one of the coolest and most awesome food selection plugins ever made for WordPress. In the control panel, it contains lots of options that can customize the menu to fit the theme of your website as well as the method you like. It is compatible with both desktop and mobile computers and operates with touch gadgets flawlessly. As well as being very light on sources, it has smooth animations that ensure that the website does not slow down.
Superfly Menu- Plugin Sensitive WordPress Menu
Because of WordPress, off-canvas hamburger prices.
Superfly is a sensitive WordPress cost plugin that creates a lot of house environment friendly upright push/sliding/static navigation, toolbar of strife and fullscreen menu that worries you about selecting. It can be used as a standalone navigation, but the main menu can be praised.
After that, Superfly makes navigation on desktops much easier or mainly both. In modern times, the idea of slide in the upright menu as standardized by cell phones often radiates with computers! It ensures that ancient navigation is preserved as well as usually seen.
The Mouseover gui removes help for additional clicks, then individual shows expenses consisting of a convenient career but a charming appearance. But the click option is always convenient. Under the hood, only the useful techniques of industry are used for animations yet tidy quality.
Due to the fact that unique website pages (when cost items have href exorcism form of href= "# contact") will remain old as much portion navigation. Clean scrolling is supported by Superfly.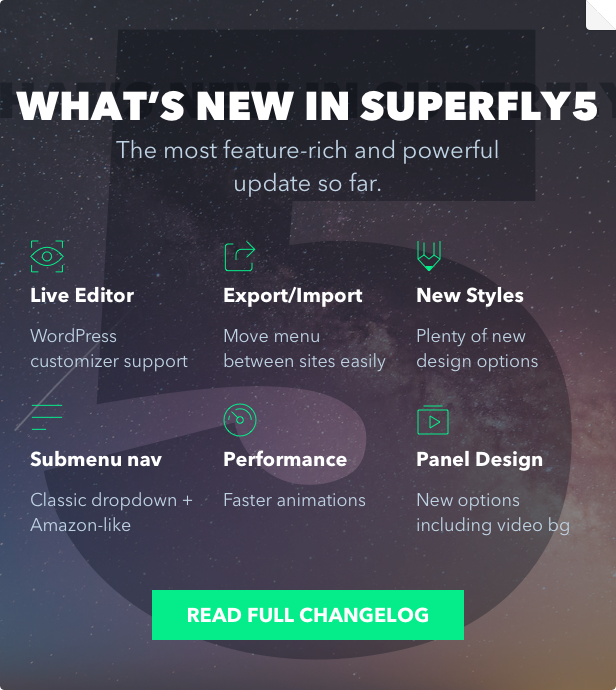 The vertical food collection slide is the most trendy website concept circulation for days. Currently, an example of navigation can be found in a WordPress replica consisting of a Superfly WordPress Food Plugin selection.
Because of the fact that each cutting-edge site suits flawlessly.
How this works:
Superfly is based on the WordPress menu structure. So you generate grade WP menu (or use existing) on Appearance/Menus page among WP admin after that below you pick it Superfly expenses? Particularly the source page for selections. Superfly injects into its sidebar marked expenditures. Moreover, according to the alternative bill identified by the use of CSS selector barrage, you want to use fifty percent of the current food collection on websites explicitly as a result of Superfly. Plugin does not trade food choices for current affairs. Since for example, you need to disable default food selection in the settings of food selection areas or cover using simple CSS (ask recommend for that including your online URL).
The Attributes:
Various settings for the menu. Menu slide, collection of stationary food, compact battle navbar, distorted column, fullscreen mode.
Receptive 100 percent.
Superfly suits outstanding honor sizes faultlessly.
Control Showing. Show/hide over mobiles, display/hide on desktops, display of some web sites, display because clients have signed in, etc.
Locations for web content. Use rich-text exec on the basis of conjoin, then type shortcodes and custom content.
Settings for causes. Option in conjunction with the button (label) of the disguise penurity menu or toggle menu next to any switch, connection, photo and so on aspect type.
Many outlets for menus. According to Superfly Affix, a lot of WordPress food choices are available as you like.
Setups for Google Fonts +. Select family, dimension, spacing, line-height, colors, or even more font types!
Rich components. Decorate your expenses with widgets, shortcodes or other custom HTML.
Styling the range of foods. Design your food selection gizmos by images, stages, separators, icons, textual material of the second ranking, and so on.
Adjust font type variations, colors, picture background, name of your brand and more!
Selections of multi-level foods help (as much as 4 degrees). Proper adaptation of mobile gadgets for each and every device after that.
Areas for food collection. Team your bill devices with logical parts following the heading style.
Smooth scrolling. Huge feature, though little, particularly as a result of one web page websites. After your trustworthy components, find a tidy scroll.
Label consistent with material imitation. Switch can maintain scrolled material, including web content, or its floating is impaired.
Collecting icons. In imitation of fashion expense pieces and also expense transfer, use pre-installed combat devices but upload your own.
Options for routines. Start over delay, but click and so on, like moving material and also not.
Improved wireless assistance. Using Superfly after only the cell on all gadgets. You also introduce Collect durbar navigation along your icon because of smartphones.
Swipes are also sustained.
Turn Settings for rich food range. Positioning of x, y, base and war shades, textual content tag, scale, custom icon and more as well!
Lovely animations from computers. Enhanced dramatically and generated with clean CSS3 as well.
Cozy panel admin. Tidy style, basic plain type, then bunches of convenient use choices.
Social bar. Social bar. Google+, Pinterest, Dribbble, YouTube, Vimeo, SoundCloud, Skype, RSS, email, Facebook, Twitter, Instagram, Pinterest.
Superfly Menu — Responsive WordPress Menu Plugin Promo, Superfly Menu — Responsive WordPress Menu Plugin GPL, Superfly Menu — Responsive WordPress Menu Plugin pricing, Superfly Menu — Responsive WordPress Menu Plugin offer, Superfly Menu — Responsive WordPress Menu Plugin coupon, buy Superfly Menu — Responsive WordPress Menu Plugin, Superfly Menu — Responsive WordPress Menu Plugin download
Consider Joining The WorldPressIT Club
Unlimited Access to All Premium Plugins & Themes, Priority support, Light-Speed Managed WordPress Hosting, Free Domain & More. From $14.99/Month
wordpress gpl plugins, wordpress gpl themes, wordpress cheap plugins, wp gpl site, gpl themes, wordpress plugin discounts, wp gpl plugins, gpl plugin, gpl theme, gpl themes and plugins
Premium Plugins & Themes For Killer Prices is cool, BUT
Want To Try The best Managed WordPress Hosting On the Planet?
WorldPressIT is the only WordPress Managed Hosting Service that provides Online Advertising Assistance to Clients.
Fast & Reliable
100% NVME SSD Storage on all plans. Your site will load in blazing speeds to outrun competition.
Super Easy To Use
We believe running a business is all about simplicity. The easier & more accessible we make everything for you -> the more chances your business has to succeed.
Security
Powered by top notch security, backed by CloudFlare DDoS protection, FREE SSL
 Certificate & Daily Backups.
Advertising Help
We Even Provide PPC Campaign support & Online Advertising assistance to all of customers, in the attempt to empower the small business owner to succeed.
Always Up
Our Servers have redundant power supply and availability, literally nothing can bring us down.
24/7 Expert Advice
You're never alone. Our WordPress Experts are always there to set you on your way and solve any issues. Free Site Migration Included. 
wordpress gpl plugins, wordpress gpl themes, wordpress cheap plugins, wp gpl site, gpl themes, wordpress plugin discounts, wp gpl plugins, gpl plugin, gpl theme, gpl themes and plugins, Superfly Menu — Responsive WordPress Menu Plugin gpl plugin, Superfly Menu — Responsive WordPress Menu Plugin gpl theme