100% Original - All Premium Features Included.

We Purchase and Download From Original Developers, to provide the most authentic & relevant version. Note: We're not directly affiliated or associated with WoodMart Responsive WooCommerce WordPress Theme developers and we appreciate the authors' effort and original work. Names, expressions and trademarks are used to the minimum extent necessary to truthfully and accurately identify the item.

Safe & Secure

The File Is Scanned Daily by Norton & McAfee to ensure safety, 100 % Free from Virus / Malware / Malicious Script etc. Run your own online Security check now (button under product image).

Unlimited Site & Domain Usage

File can be used on as many sites as you want, in accordance to WordPress's GPL licensing policies. 

Updates Included (6 Months) - From WorldPressIT

We make sure that your site is always up to date, you will be notified the moment a new version is released on WorldPressIT and the new download link automatically delivered to your email.

Why So Cheap?

WordPress enforces the GPL/GNU license on ALL plugins & themes that 3rd party developers create for WordPress. The GPL license means that every script written for WordPress and their derivatives, must be free (Including all plugins and Themes). We are able to offer prices which are incredibly low for official items due to the fact we purchase all items directly from the authors and redistribute them to the public. The Price is a one-time price for full access, It's not a recurring payment. Original Author Support is not included if purchased from WorldPressIT.

 
Consider Joining The WorldPressIT Club
Unlimited Access to All Premium Plugins & Themes, Priority support, Light-Speed Managed WordPress Hosting, Free Domain & More. From $14.99/Month
WoodMart Responsive WooCommerce WordPress Theme Discount - 93% OFF
WoodMart is a premium theme optimized for creating WooCommerce online stores that provides a super-fast interface for the ultimate user experience
Company, Retail, Marketplace
"They will come if you build it"
'WoodMart' is a premium WordPress theme built to create supreme online WooCommerce stores of any kind from the ground up. First, WoodMart uses a powerful AJAX technology based on user experience to offer users a very quick and seamless online shopping interface without the need to continuously update pages.
Create any sort of online store you can imagine and start earning the passive stream of revenue you've been dreaming about for WordPress with 'WoodMart' and never look back.
Theme Setup Screen
You don't need any coding experience with a powerful Theme Settings Panel that allows you to change a multitude of theme settings with a single click. WoodMart is smart, lean and quick without the need for several plugins to power it so you can get on with business. To make basic adjustments quickly and easily, the Theme Settings panel gives you a graphical interface.
Absolutely Customizable
To respond to your customization requests with a minimum of fuss, everything has been tweaked and built so that what you are left with is a highly customizable website that can easily and quickly adapt to your requests for improvement.
Adjust your fonts, update your color palette to suit your brand guidelines, update your swatches to illustrate various product variants, all accessible from the intuitive WordPress dashboard's familiarity.
Sensitive Architecture
WoodMart, of course, has a fully responsive interface that manipulates itself to better fit the screen on which it is displayed. This means that you can carry on with the best part of listing things for sale, building a killer shop and leaving the developers with the technical material.
Without any extra effort on your part, we guarantee that your website can appear seamlessly across any form of computer you can think of-laptops, PCs, smartphones and tablets-have been carefully thought out and included in this smart website theme design.
Ready Retina
We have also ensured that your new website is presented with the maximum possible pixel density per screen for users. If this happens to be a computer that is ready for the retina, then the show will light up with colors that are literally out of this world.
With this WordPress retina ready theme, you will not regret it. Make the most of your photography.
Optimizing SEO
SEO is like the decade's hottest buzzword, but it actually means that your website needs to be coded in some way so that search engines such as Google and Bing can find the right items to rate your page properly.
This means clean code, well built, and support for almost all common SEO plugins that give you more control and are free of bloat over the use of the correct metadata in the right place.
Strong AJAX Powerful
AJAX, or Asynchronous Javascript and XML, is a collection of web development techniques that allow a web page to interact with a server without reloading the page. This is best found in the quest for goods. When any category shift or product swatch update makes the whole page flickers and reloads, you know you don't have an AJAX powered site.
For WoodMart, not. We have gotten away from that issue with galleries of items of every sort with stacks of potential styles and types that simply update as you choose them by using the best technology available. It provides your customers with the kind of experience you would expect online today in a leading marketplace. With WoodMart for WordPress, live up to their standards - quick.
About 35 Layouts for Demo
To get you started, a great website should have a nice supply of demo templates and we recognized this from the beginning and went hard out of the gate with over 35 beautiful layouts for you to choose from. Our theme can be used for any form of store, including furniture, apparel, clothes, electronics, watches, glasses, sports, shoes, jewelry, cosmetics, and many others. For corporate and magazine websites, our theme is also fitting and you can use it without WooCommerce.
Advanced Products for Variables
It is a must to be able to add several product variables and swatches to things in your store. WoodMart is optimized by allowing you to have one listing, for example, displaying several colors or a certain object that has many sizes, forms, designs, purposes.
With each product being able to have several characteristics and variants, this gives your shop so much more depth, and as soon as they are added to your cart they appear, no page reloads, no refresh required. There is no going back once you've tried it.
Header Builder Drag & Fall!
A great user experience always begins with an awesome header design, and it is often ignored as dumb as it might sound to others. We are launching a powerful 'Drag & Drop' header builder with the next version of WoodMart that gives you full control over the design of your headers. Drag and drop blocks into location, mark, change background pictures, colors, borders, padding. All with a simple Interface that can be used by anyone to create something very special.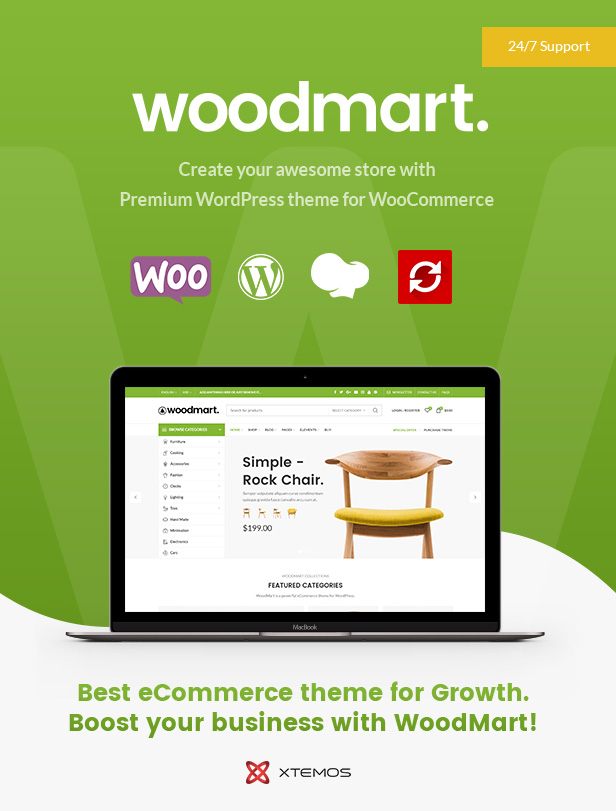 WoodMart Responsive WooCommerce WordPress Theme Promo, WoodMart Responsive WooCommerce WordPress Theme GPL, WoodMart Responsive WooCommerce WordPress Theme pricing, WoodMart Responsive WooCommerce WordPress Theme offer, WoodMart Responsive WooCommerce WordPress Theme coupon, buy WoodMart Responsive WooCommerce WordPress Theme, WoodMart Responsive WooCommerce WordPress Theme download
Consider Joining The WorldPressIT Club
Unlimited Access to All Premium Plugins & Themes, Priority support, Light-Speed Managed WordPress Hosting, Free Domain & More. From $14.99/Month
wordpress gpl plugins, wordpress gpl themes, wordpress cheap plugins, wp gpl site, gpl themes, wordpress plugin discounts, wp gpl plugins, gpl plugin, gpl theme, gpl themes and plugins
Premium Plugins & Themes For Killer Prices is cool, BUT
Want To Try The best Managed WordPress Hosting On the Planet?
WorldPressIT is the only WordPress Managed Hosting Service that provides Online Advertising Assistance to Clients.
Fast & Reliable
100% NVME SSD Storage on all plans. Your site will load in blazing speeds to outrun competition.
Read More
Super Easy To Use
We believe running a business is all about simplicity. The easier & more accessible we make everything for you -> the more chances your business has to succeed.
Read More
Security
Powered by top notch security, backed by CloudFlare DDoS protection, FREE SSL
 Certificate & Daily Backups.
Read More
Advertising Help
We Even Provide PPC Campaign support & Online Advertising assistance to all of customers, in the attempt to empower the small business owner to succeed.
Read More
Always Up
Our Servers have redundant power supply and availability, literally nothing can bring us down.
Read More
24/7 Expert Advice
You're never alone. Our WordPress Experts are always there to set you on your way and solve any issues. Free Site Migration Included. 
Read More
wordpress gpl plugins, wordpress gpl themes, wordpress cheap plugins, wp gpl site, gpl themes, wordpress plugin discounts, wp gpl plugins, gpl plugin, gpl theme, gpl themes and plugins, WoodMart Responsive WooCommerce WordPress Theme gpl plugin, WoodMart Responsive WooCommerce WordPress Theme gpl theme