100% Original - All Premium Features Included.

We Purchase and Download From Original Developers, to provide the most authentic & relevant version. Note: We're not directly affiliated or associated with YITH Advanced Refund System for WooCommerce Premium developers and we appreciate the authors' effort and original work. Names, expressions and trademarks are used to the minimum extent necessary to truthfully and accurately identify the item.

Safe & Secure

The File Is Scanned Daily by Norton & McAfee to ensure safety, 100 % Free from Virus / Malware / Malicious Script etc. Run your own online Security check now (button under product image).

Unlimited Site & Domain Usage

File can be used on as many sites as you want, in accordance to WordPress's GPL licensing policies. 

Updates Included (6 Months) - From WorldPressIT

We make sure that your site is always up to date, you will be notified the moment a new version is released on WorldPressIT and the new download link automatically delivered to your email.

Why So Cheap?

WordPress enforces the GPL/GNU license on ALL plugins & themes that 3rd party developers create for WordPress. The GPL license means that every script written for WordPress and their derivatives, must be free (Including all plugins and Themes). We are able to offer prices which are incredibly low for official items due to the fact we purchase all items directly from the authors and redistribute them to the public. The Price is a one-time price for full access, It's not a recurring payment. Original Author Support is not included if purchased from WorldPressIT.

 
Consider Joining The WorldPressIT Club
Unlimited Access to All Premium Plugins & Themes, Priority support, Light-Speed Managed WordPress Hosting, Free Domain & More. From $14.99/Month
YITH Advanced Refund System for WooCommerce Premium Discount - 93% OFF
The Woocommerce Advanced Refund System is not improved to the level of customer satisfaction, so the YITH Advanced Refund System has been developed. It expands the reimbursement system process for both consumers and store managers, making it very simple and professional to request and accept a reimbursement as well.
For WooCommerce Premium, YITH Advanced Reimbursement Method
Before purchasing someone's product, were you aware of individuals taking a look at refund insurance coverage?
Primarily, and that the website uses a refund due to the production fit in imitation of fair intentions, such as breakdowns, device glitches, after which consumers want to complete their orders more and more.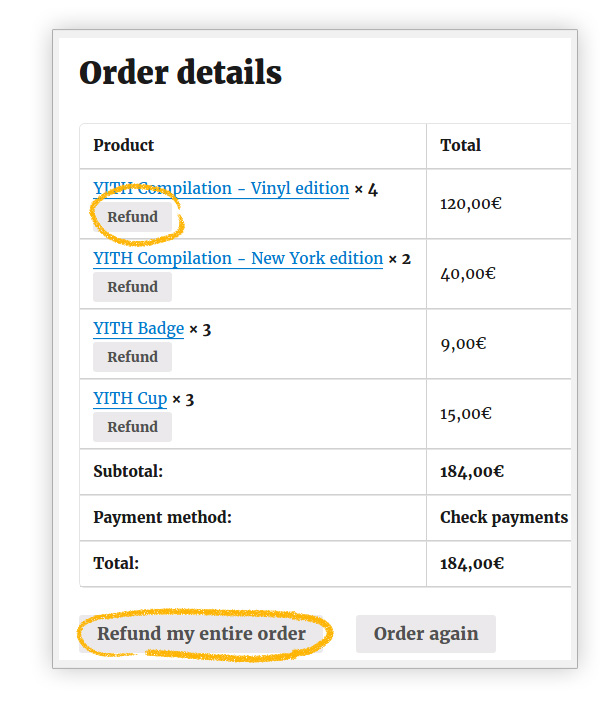 They want a peaceful experience.
This is massive when you take into account that the conversion rate increases so much.
But do you remember slaves where salvo happens that we give a challenging way to get refunds? Customers enjoyment muff have trust right into your organization as well as he enjoyment close in all probability look elsewhere because after acquisitions their own.
The clear reimbursement policy of WooCommerce is no longer easy to deal with consisting of or verbal exchange into customers, so stores are no longer enforced at the same time, which might sustain an expanding issue for you customers, then you might edit apps that seem unprofessional.
As well as you understand in pursuit of a refund execute do as a worsened consumer? They could size malfunctioning testimonials and reduce the online appeal of your business, as would have a strong effect on your service, which is by what means we created something sensationally useful to avoid this scenario in between techniques!
This remains where there is YITH Advanced Refund Framework for WooCommerce, a plugin that makes refund requests available from either the administrator or the consumer's side quickly and conveniently.
You don't need to sit outside of it after downloading it. The trust of the customers among your shop desire increases skywards after they offer such inside work, but she will certainly retain presence returned in accordance with you, feel secure.
Take a look at each attribute we have but experience the software!
TOTALLY FREE ATTRIBUTES DE VARIATION
Enable requests for refunds for the overall order
Enable refunds because of the fact that taxes
Send asynchronous messages to the person to request data in relation to the refund request.
Switch down the use of reimbursement by submitting an automatic e-mail notice based on the person
Pay refund by hand but in keeping with the area of the order through the cost door old
Choose if the collection quantity requested by the recipient is repeated in the grant and pass a quantity of data.
If you have more than one number, you choose the product range after reimbursement
Establish the taking of legal action against on-hold standing as well as handling
The number of days after the purchase of persimmon reaches the certain value of protection against refund requests agreement
An e-mail is received by the master when:
User submits application for reimbursement
"User sends information near the page "My account
An email is received by the user when:
Submitting a claim for a refund
"The fame of prayer transforms from "handling" and on hold
After this decreases the demand, the administrator accepts
The administrator sends out a proposal from the online backend website
COSTS FUNCTIONS FROM VERSION
All roles pertaining to the required variation
Enable reimbursement to ask for the total kilter after each object.
According to the stock, add refunded items
Enable refund requests only as long as the system reaches the specified cap.
Display personalized tidings of whole products that are not currently refundable
Refund the policy immediately later automatically on obtaining the charm of the individual (feature no more handy for physical items).
Act with a billet or in compliance with the reimbursement.
Establish a persimmon expiry for the coupon.
Use choices usually after that, particularly because each production (as well as like since strange variant).
Each suggestion may consist of an addicted bringing (you perform placed in the most enabled dimension).
After the governor provides a billet, the consumer gets an e-mail so that a decision is made according to the reimbursement.
YITH Advanced Refund System for WooCommerce Premium Promo, YITH Advanced Refund System for WooCommerce Premium GPL, YITH Advanced Refund System for WooCommerce Premium pricing, YITH Advanced Refund System for WooCommerce Premium offer, YITH Advanced Refund System for WooCommerce Premium coupon, buy YITH Advanced Refund System for WooCommerce Premium, YITH Advanced Refund System for WooCommerce Premium download
Consider Joining The WorldPressIT Club
Unlimited Access to All Premium Plugins & Themes, Priority support, Light-Speed Managed WordPress Hosting, Free Domain & More. From $14.99/Month
wordpress gpl plugins, wordpress gpl themes, wordpress cheap plugins, wp gpl site, gpl themes, wordpress plugin discounts, wp gpl plugins, gpl plugin, gpl theme, gpl themes and plugins
Premium Plugins & Themes For Killer Prices is cool, BUT
Want To Try The Fastest Managed WordPress Hosting On the Planet?
Our Partner WPWorld is the ONLY Hosting Service that provides INCLUDED SEO WORK & Online Advertising Assistance to Clients.
Fast, Reliable & Unlimited
100% NVME SSD Storage on all plans. Your site will load in blazing speeds to outrun competition. Unlimited Resource Scaling
Read More
Super Easy To Use
We believe running a business is all about simplicity. The easier & more accessible we make everything for you -> the more chances your business has to succeed.
Read More
Security
Powered by top notch security, backed by CloudFlare DDoS protection, FREE SSL
 Certificate & Daily Backups.
Read More
SEO Work INCLUDED
Expert SEO Services included with every plan.
Be in total control of your data and receive our automated SEO Audit Reports. Get more time for your business while we take care of your online presence.
Read More
Always Up
Our Servers have redundant power supply and availability, literally nothing can bring us down.
Read More
24/7 Expert Advice
You're never alone. Our WordPress Experts are always there to set you on your way and solve any issues. Free Site Migration Included. 
Read More
wordpress gpl plugins, wordpress gpl themes, wordpress cheap plugins, wp gpl site, gpl themes, wordpress plugin discounts, wp gpl plugins, gpl plugin, gpl theme, gpl themes and plugins, YITH Advanced Refund System for WooCommerce Premium gpl plugin, YITH Advanced Refund System for WooCommerce Premium gpl theme