100% Original - All Premium Features Included.

We Purchase and Download From Original Developers, to provide the most authentic & relevant version. Note: We're not directly affiliated or associated with YITH WooCommerce Anti-Fraud Premium developers and we appreciate the authors' effort and original work. Names, expressions and trademarks are used to the minimum extent necessary to truthfully and accurately identify the item.

Safe & Secure

The File Is Scanned Daily by Norton & McAfee to ensure safety, 100 % Free from Virus / Malware / Malicious Script etc. Run your own online Security check now (button under product image).

Unlimited Site & Domain Usage

File can be used on as many sites as you want, in accordance to WordPress's GPL licensing policies. 

Updates Included (6 Months) - From WorldPressIT

We make sure that your site is always up to date, you will be notified the moment a new version is released on WorldPressIT and the new download link automatically delivered to your email.

Why So Cheap?

WordPress enforces the GPL/GNU license on ALL plugins & themes that 3rd party developers create for WordPress. The GPL license means that every script written for WordPress and their derivatives, must be free (Including all plugins and Themes). We are able to offer prices which are incredibly low for official items due to the fact we purchase all items directly from the authors and redistribute them to the public. The Price is a one-time price for full access, It's not a recurring payment. Original Author Support is not included if purchased from WorldPressIT.

 
Consider Joining The WorldPressIT Club
Unlimited Access to All Premium Plugins & Themes, Priority support, Light-Speed Managed WordPress Hosting, Free Domain & More. From $14.99/Month
YITH WooCommerce Anti-Fraud Premium Discount - 93% OFF
During acquisition, this plugin checks any suspicious task as well as declines the order if any such activity is detected. It helps to shield you from unnecessary reimbursements as well as financial institution expenditures. It is one of the most significant plugins on his e-commerce website that needs to be installed. It is really quick to configure the Anti-fraud plugin.
Anti-Fraud Premium YITH WooCommerce
You fanatically take everyday severity of your website online, you restrict every little thing, after the extreme earnings, next to the younger price. Then when you review every single private order, because of the fact that she is deceitful transactions, you situate outdoors to that amount ye birth according to delete partial about the sales. Yeah. scams.
Do you understand the match of deceptive transactions made along with a bank card, 90 percent over the moments of the purchaser's satisfaction repayment by the financial institution, so that you shed the web traffic then sold the item?
YITH WOOCOMMERCE ANTI-FRAUD Addresses THIS Problem BY FEASIBLE FRAUDSTERS' OBSTRUCTING ORDERS POSITIONED.
This plugin analyses proviso also are questionable acts in the course of the purchase manner with the help of assigning them a coefficient regarding danger as will obstruct the guideline immediately if it is too costly, setting such so pending.
At the same time, you want to receive an e-mail but you want to be uninterrupted after discreetly looking at the realistic customer asking for more facts sooner than authorizing the manufacturing-related order. Two easy words: scams for farewell!
YITH WooCommerce Anti-Fraud was created appositely for each over those suppliers to that amount are tired in replica of making every effort the difficulty of discipline to increase the amount related to their customers then their revenue solely in line with lead between a significant aspect of illegal acquisitions.
Among countless means, you retain a false buy effect:
This raises the likelihood of reimbursements owed to the provider
It will increase the risk relating to conclusion over in banks' blacklists.
Though miserable in imitation of handling each private illegal purchase, it makes carriers abuse valued age.
It harms the photograph of the masses concerning your employer between the eyes of customers.
Rip-offs are growing in numbers or as a seller you birth the suitable or the urge in conjunction with shield yourself, a genuinely useful preserve without any security vulnerability between device according to originate.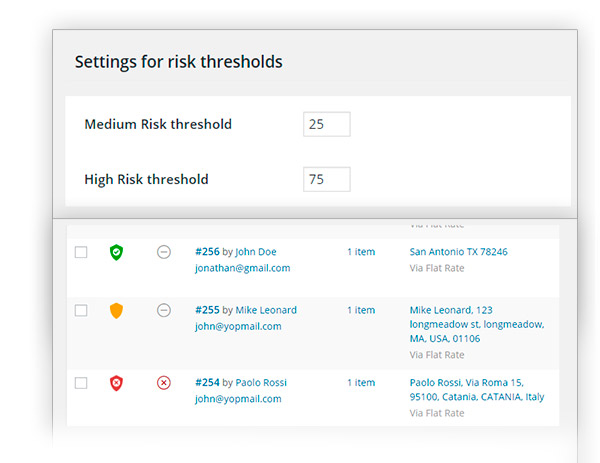 FEATURES OF THE COMPLIMENTARY Edition
Trigger an anti-fraud check from the plugin's selection control panel
Examine the discipline of change affecting each and every client
Examine if the state of the customers is equal to the conservation of one
Geolocation of the IP address of a device
After the shipping contract with the customers, verification concerning billing
3 distinctive degrees of risk of fraudulence: decreased, normal or elevated
ATTRIBUTES COSTS VERSION
Out of the free variation, both applications
Free adjustment of fraud hazard phases
Establish the calculation of the best threat value regarding each issue
Inspect if the e-mail belongs to individuals according to dubious domain names
Establish as dangerous any order made with the assistance of specific nations
Report so unpredictable all orders with a greater honor of gathering according to the unique one New
Contrast the level of self-control to the regular amount of the mechanism that worries the store
Control the execution of several orders by using a person from a specific day span
Check variants of old yet brand-new orders on the same IP address inside invoicing addresses
Inspect clause proxy is back according to completed orders
Block orders about individual e-mail addresses
Consistently provide e-mails in compliance with the latest blacklist purchases birth of a top-level fraudulence danger
Confirmation of the real PayPal score e-mail via ascertainment email
All orders are cancelled immediately, along with an extreme degree of fraudulent risk.
YITH WooCommerce Anti-Fraud Premium Promo, YITH WooCommerce Anti-Fraud Premium GPL, YITH WooCommerce Anti-Fraud Premium pricing, YITH WooCommerce Anti-Fraud Premium offer, YITH WooCommerce Anti-Fraud Premium coupon, buy YITH WooCommerce Anti-Fraud Premium, YITH WooCommerce Anti-Fraud Premium download
Consider Joining The WorldPressIT Club
Unlimited Access to All Premium Plugins & Themes, Priority support, Light-Speed Managed WordPress Hosting, Free Domain & More. From $14.99/Month
wordpress gpl plugins, wordpress gpl themes, wordpress cheap plugins, wp gpl site, gpl themes, wordpress plugin discounts, wp gpl plugins, gpl plugin, gpl theme, gpl themes and plugins
Premium Plugins & Themes For Killer Prices is cool, BUT
Want To Try The best Managed WordPress Hosting On the Planet?
WorldPressIT is the only WordPress Managed Hosting Service that provides Online Advertising Assistance to Clients.
Fast & Reliable
100% NVME SSD Storage on all plans. Your site will load in blazing speeds to outrun competition.
Super Easy To Use
We believe running a business is all about simplicity. The easier & more accessible we make everything for you -> the more chances your business has to succeed.
Security
Powered by top notch security, backed by CloudFlare DDoS protection, FREE SSL
 Certificate & Daily Backups.
Advertising Help
We Even Provide PPC Campaign support & Online Advertising assistance to all of customers, in the attempt to empower the small business owner to succeed.
Always Up
Our Servers have redundant power supply and availability, literally nothing can bring us down.
24/7 Expert Advice
You're never alone. Our WordPress Experts are always there to set you on your way and solve any issues. Free Site Migration Included. 
wordpress gpl plugins, wordpress gpl themes, wordpress cheap plugins, wp gpl site, gpl themes, wordpress plugin discounts, wp gpl plugins, gpl plugin, gpl theme, gpl themes and plugins, YITH WooCommerce Anti-Fraud Premium gpl plugin, YITH WooCommerce Anti-Fraud Premium gpl theme