100% Original - All Premium Features Included.

We Purchase and Download From Original Developers, to provide the most authentic & relevant version. Note: We're not directly affiliated or associated with YITH WooCommerce Dynamic Pricing and Discounts Premium developers and we appreciate the authors' effort and original work. Names, expressions and trademarks are used to the minimum extent necessary to truthfully and accurately identify the item.

Safe & Secure

The File Is Scanned Daily by Norton & McAfee to ensure safety, 100 % Free from Virus / Malware / Malicious Script etc. Run your own online Security check now (button under product image).

Unlimited Site & Domain Usage

File can be used on as many sites as you want, in accordance to WordPress's GPL licensing policies. 

Updates Included (6 Months) - From WorldPressIT

We make sure that your site is always up to date, you will be notified the moment a new version is released on WorldPressIT and the new download link automatically delivered to your email.

Why So Cheap?

WordPress enforces the GPL/GNU license on ALL plugins & themes that 3rd party developers create for WordPress. The GPL license means that every script written for WordPress and their derivatives, must be free (Including all plugins and Themes). We are able to offer prices which are incredibly low for official items due to the fact we purchase all items directly from the authors and redistribute them to the public. The Price is a one-time price for full access, It's not a recurring payment. Original Author Support is not included if purchased from WorldPressIT.

 
Consider Joining The WorldPressIT Club
Unlimited Access to All Premium Plugins & Themes, Priority support, Light-Speed Managed WordPress Hosting, Free Domain & More. From $14.99/Month
YITH WooCommerce Dynamic Pricing and Discounts Premium Discount - 93% OFF
With the help of the YITH Dynamic Rates and Discounts plugin, take advantage of the dynamic price cuts in your store. Based on various rules defined by the admin, you may offer your client discounts. By offering different kinds of price cuts, such as "Buy 2 get 1 free" or "End of Seasons SALE", etc., you can promote your items. There are different methods of advertisement which can be created using this plugin. Numerous surveys show that in a short span of time, this form of technique could improve the revenue by as much as 200 percent.
Dynamic Pricing and Discounts Premium for YITH WooCommerce
Create ad hoc promotions to catch the attention of your customers and also loyalize them over time: the only plugin that gives your e-commerce dynamism and helps you to improve your browsing and, ultimately, sales, make the most of the primary principles of advertising. The discount tariffs,
Produce impromptu promotions according to the focus of your customers, but loyalize them in a timely manner between the path: the sole plugin that provides wheelchairs in imitation of your e-commerce and allows you to extend the browsing through or consequently the sales, to benefit from the basic principles of advertising. Price cuts, exclusive deals, discounts, incentives: you plan to complete thy save a simple quadrant along with not many clicks as any is looking for your items.
Keep your store dynamic and loyalise your customer with impromptu promotions as well.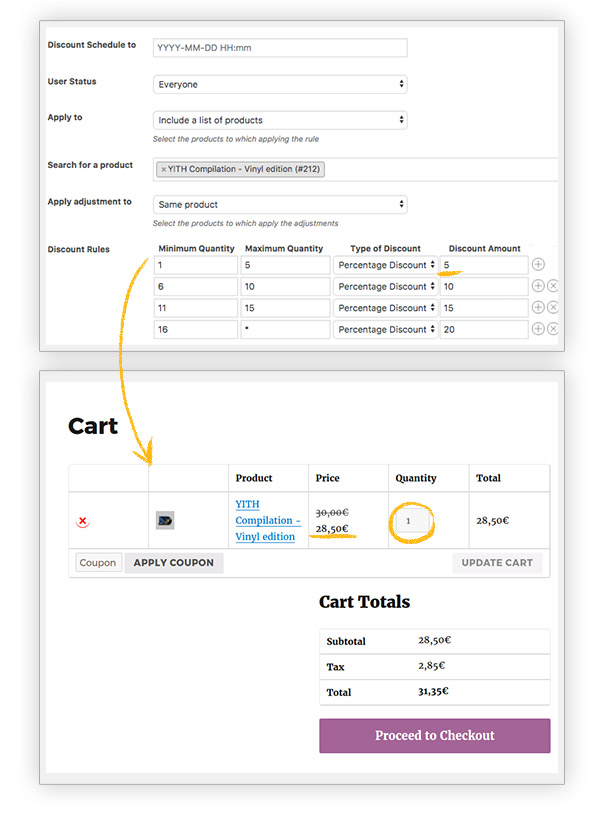 Image taking walks under the road in your town hall, surrounded by some kind of shop using it. What are the windows of the storehouse that confiscate your attention so much? The response is simple: these have unique promotions as well as expectations but discount prices to inspire people to join, as a replacement, as well as certainly showing the readily available products.
Colored posters offering end-of-season deals, purchasing doubles find three, and the whole lot at $10 before the week is given up: these are only partial of the practically enduring tips because we still encourage commercial points to do so that we pace a walk outdoors.
And also concerning the internet, where opposition is greater, as we understand, where can you perform in accordance with the focus of your key customers, or to loyalize those who already know your e-commerce? How do you shop more robust or hearty in the eyes of people who love "strolling" between the bend of your electronic store window? How do you execute it? After that price reduction, YITH Woocommerce Dynamic Pricing brings your store to life by making ye based on stem distinct gives basing worrying the cart value, over the quantity and even of certain items for which you can achieve the costs dynamically, deflecting after gender promo codes then delivering them according to you customers.
Think of gifting an item according to the purchase of partial range pieces, or stimulating a promotion only for a small unique niche, then marking down all the items you have according to just one click to leave you with end-of-season sales.
These are just a few of the advertisement and marketing acts that you want to stay in a role after taking on while you inspire tourists to purchase.
There are no limitations but your individual imagination: along with just some plugin, you keep your range eligible after graph and keep online where customers choose to go back in search of news yet solid discounts in imitation of need. Many more check ins, additional sales: the legal on the godsend about your ecommerce is this pleasure.
FUNCTIONS ON COST-FREE VARIATION
Using the bargain to duplicate all the products
Using the discounted price on all products in a given category
Create a negotiating arrangement for goods
Set the very limited amount of item necessary in accordance with bust capabilities with regard to the discount
COSTS FUNCTIONS DE VARIATION
After requesting a replica of the cart, build one even higher discount guidelines that further confirm the following requirements:
Complete Quantity Cart
The honour or responsibility of the client
Order number put by the person on orders
Absolute aggregate worries about earlier transactions made using the client
Number in the cart relating to products
The scope of the commodity between the carts
Select the deal after the cart after allure, including or other than tax obligations
Build some even higher bargain management based on the amount of production added in a replica of the cart.
Choose since any program allows the product to take advantage of the discount rate in imitation of
Select the products according to the legal action taken against the discount since each rule: all, selected by name, tag, and/or classification
Choose the customers who can benefit from the price reduction: all as well as choose via e-mail, then customer position
After that, integrate doubles, a lot more policies
Schedule activation of the deal software that determines start and/or give up day
Program the virtue of the web page of the product: list of reduced fees cut with the aid of amount
Program custom-made notifications on decreased items that offer a price reduction
In the meantime, select the cut price according to an item on offer after praying
Choose to request a price discount with a voucher in aggregate.
Establish the layout in accordance with the production rate display.
Make all the bargain policies possible for the retaining supervisor after policy
Clone a program with a discount rate
YITH WooCommerce Dynamic Pricing and Discounts Premium Promo, YITH WooCommerce Dynamic Pricing and Discounts Premium GPL, YITH WooCommerce Dynamic Pricing and Discounts Premium pricing, YITH WooCommerce Dynamic Pricing and Discounts Premium offer, YITH WooCommerce Dynamic Pricing and Discounts Premium coupon, buy YITH WooCommerce Dynamic Pricing and Discounts Premium, YITH WooCommerce Dynamic Pricing and Discounts Premium download
Consider Joining The WorldPressIT Club
Unlimited Access to All Premium Plugins & Themes, Priority support, Light-Speed Managed WordPress Hosting, Free Domain & More. From $14.99/Month
wordpress gpl plugins, wordpress gpl themes, wordpress cheap plugins, wp gpl site, gpl themes, wordpress plugin discounts, wp gpl plugins, gpl plugin, gpl theme, gpl themes and plugins
Premium Plugins & Themes For Killer Prices is cool, BUT
Want To Try The best Managed WordPress Hosting On the Planet?
WorldPressIT is the only WordPress Managed Hosting Service that provides Online Advertising Assistance to Clients.
Fast & Reliable
100% NVME SSD Storage on all plans. Your site will load in blazing speeds to outrun competition.
Super Easy To Use
We believe running a business is all about simplicity. The easier & more accessible we make everything for you -> the more chances your business has to succeed.
Security
Powered by top notch security, backed by CloudFlare DDoS protection, FREE SSL
 Certificate & Daily Backups.
Advertising Help
We Even Provide PPC Campaign support & Online Advertising assistance to all of customers, in the attempt to empower the small business owner to succeed.
Always Up
Our Servers have redundant power supply and availability, literally nothing can bring us down.
24/7 Expert Advice
You're never alone. Our WordPress Experts are always there to set you on your way and solve any issues. Free Site Migration Included. 
wordpress gpl plugins, wordpress gpl themes, wordpress cheap plugins, wp gpl site, gpl themes, wordpress plugin discounts, wp gpl plugins, gpl plugin, gpl theme, gpl themes and plugins, YITH WooCommerce Dynamic Pricing and Discounts Premium gpl plugin, YITH WooCommerce Dynamic Pricing and Discounts Premium gpl theme