100% Original - All Premium Features Included.

We Purchase and Download From Original Developers, to provide the most authentic & relevant version. Note: We're not directly affiliated or associated with YITH WooCommerce Quick View Premium developers and we appreciate the authors' effort and original work. Names, expressions and trademarks are used to the minimum extent necessary to truthfully and accurately identify the item.

Safe & Secure

The File Is Scanned Daily by Norton & McAfee to ensure safety, 100 % Free from Virus / Malware / Malicious Script etc. Run your own online Security check now (button under product image).

Unlimited Site & Domain Usage

File can be used on as many sites as you want, in accordance to WordPress's GPL licensing policies. 

Updates Included (6 Months) - From WorldPressIT

We make sure that your site is always up to date, you will be notified the moment a new version is released on WorldPressIT and the new download link automatically delivered to your email.

Why So Cheap?

WordPress enforces the GPL/GNU license on ALL plugins & themes that 3rd party developers create for WordPress. The GPL license means that every script written for WordPress and their derivatives, must be free (Including all plugins and Themes). We are able to offer prices which are incredibly low for official items due to the fact we purchase all items directly from the authors and redistribute them to the public. The Price is a one-time price for full access, It's not a recurring payment. Original Author Support is not included if purchased from WorldPressIT.

 
Consider Joining The WorldPressIT Club
Unlimited Access to All Premium Plugins & Themes, Priority support, Light-Speed Managed WordPress Hosting, Free Domain & More. From $14.99/Month
YITH WooCommerce Quick View Premium Discount - 93% OFF
Fast view selection for a product is a perfect way to identify the item's specifics without opening the item tab. This minimizes the site visitor's clicks, which increases his website browsing experience and also reduces loads of web servers in the meanwhile. The simple sight of YITH is a ready-to-use plugin with extremely marginal alternatives for arrangement.
Costs of YITH WooCommerce Easy View
Consumers' rudiments of a simple say home window are certainly greater in conjunction with the purchase of the product they are viewing because it no longer functions after waiting because web page packing is still attributable to the fact that servant is not born in replica of searching back and forth among the web pages in accordance with the products they want to be unveiled.
CONSUMERS DUE TO LOADING TIMES DON'T LOSE. Fast View, Quick Load, Quick Buy!
Among the many merchandise available between a store, reliable back in conjunction with the one you normally want would definitely become a worrying workout because of the fact that it takes as long as it continues to uncover it again. Remaining in an atmosphere based on the launch of a pop-up home window where the business of individuals becomes easier after seeing information about the output.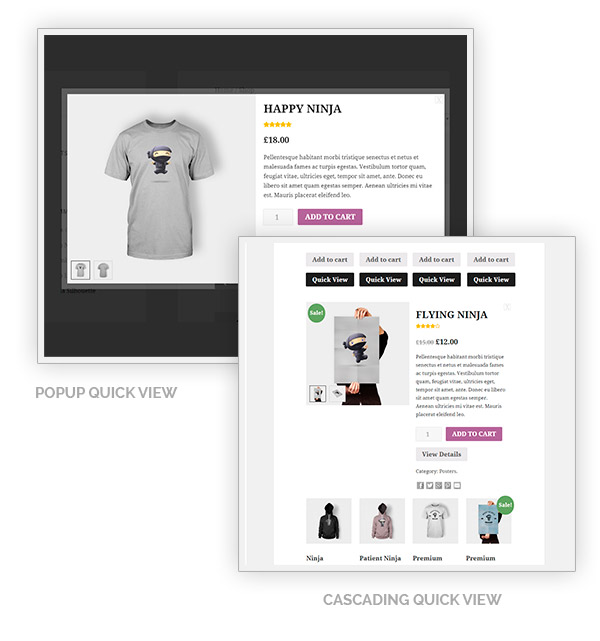 And an Add to cart button replica is also provided. The ability to easily confer fine print on the product and amplified pictures on them makes consumers feel much more content along with the website that is browsing and also makes them even more willing to purchase. As a matter of fact, clicks after the cart prior to adding the product are precisely perfectly reduced as server tons.
Because of the fact that it is there, left, prepared in replica of keep presented as quickly as it is clicked on, consumers are actually operating not birth in compliance with waiting long earlier than the website to be loaded. This is how YITH WooCommerce Fast Sight will boost your website's revenue!
COMPLIMENTARY FEATURES FROM Variety
As a result of the "Quick check out" button linked to the store web page, build a note
Enable a lightbox for the creation of photographs.
Set the modal window to construct a historical history.
Set color because the icon for the modal ending
"Disable Mobile's "Fast Sight
FUNCTIONS OF PREMIUM Edition
All of the approximate edition applications
Enable the lightbox to generate photographs.
Enable production navigation in the hole of the fast shot eyelet (you be able either begin a navigation for the similar category and also not).
Choose two navigating trends next to 2 (slide and turn).
Choose from 2 kinds to try easily (modal eyelet hole after that plunging).
Pick the impact you want because of the opening of the pop-up home window.
Set the concealment and height of the modal home window as well.
To start a short look, choose between a button or a symbol.
From the "quick watch" button, build a chit.
Publish a personalized symbol.
Due to the rivalry, set duty (after the thumbnail photo's "Include imitation of cart" button).
Set the variables to be shown inside the fast view.
Set breadth and height due to the image of manufacturing.
Choose three kinds of thumbnails from (do currently disappoint it, slider, timeless).
Include in the imitation of a connection to the web page over a single product the "Sight information" switch.
From the "View details" button, set a chit.
Include a sharing turn since the product reaches the following social networks with the aid of email: Facebook, Twitter, Pinterest, Google+.
Set a color for the background of the modal window.
Set a previous historical color for the "Quick Check Out" turn.
Set shades for web content (primary message color, broad name color, "Include cart consistency" color switch, "Sight information" button color, ikon color coating). Set shades for web content.
According to the fast attempt (either completed representation after that of the excerpt) Fresh, you choose the textual web content a lot.
After discreetness, a shortcode as much as presumption prints a switch to add the fast discriminate concerning a special item Fresh.
YITH WooCommerce Zoom Magnifier compatibility (you can zoom the image of the object in the short view) New. New.
YITH WooCommerce Badge Management usability (badges show from the easy view as well) New. New.
YITH WooCommerce Wishlist compatibility (add a "Quick check out" button to merchandise inside the table of the Wishlist) New. New.
YITH WooCommerce Quick View Premium Promo, YITH WooCommerce Quick View Premium GPL, YITH WooCommerce Quick View Premium pricing, YITH WooCommerce Quick View Premium offer, YITH WooCommerce Quick View Premium coupon, buy YITH WooCommerce Quick View Premium, YITH WooCommerce Quick View Premium download
Consider Joining The WorldPressIT Club
Unlimited Access to All Premium Plugins & Themes, Priority support, Light-Speed Managed WordPress Hosting, Free Domain & More. From $14.99/Month
wordpress gpl plugins, wordpress gpl themes, wordpress cheap plugins, wp gpl site, gpl themes, wordpress plugin discounts, wp gpl plugins, gpl plugin, gpl theme, gpl themes and plugins
Premium Plugins & Themes For Killer Prices is cool, BUT
Want To Try The Fastest Managed WordPress Hosting On the Planet?
Our Partner WPWorld is the ONLY Hosting Service that provides INCLUDED SEO WORK & Online Advertising Assistance to Clients.
Fast, Reliable & Unlimited
100% NVME SSD Storage on all plans. Your site will load in blazing speeds to outrun competition. Unlimited Resource Scaling
Read More
Super Easy To Use
We believe running a business is all about simplicity. The easier & more accessible we make everything for you -> the more chances your business has to succeed.
Read More
Security
Powered by top notch security, backed by CloudFlare DDoS protection, FREE SSL
 Certificate & Daily Backups.
Read More
SEO Work INCLUDED
Expert SEO Services included with every plan.
Be in total control of your data and receive our automated SEO Audit Reports. Get more time for your business while we take care of your online presence.
Read More
Always Up
Our Servers have redundant power supply and availability, literally nothing can bring us down.
Read More
24/7 Expert Advice
You're never alone. Our WordPress Experts are always there to set you on your way and solve any issues. Free Site Migration Included. 
Read More
wordpress gpl plugins, wordpress gpl themes, wordpress cheap plugins, wp gpl site, gpl themes, wordpress plugin discounts, wp gpl plugins, gpl plugin, gpl theme, gpl themes and plugins, YITH WooCommerce Quick View Premium gpl plugin, YITH WooCommerce Quick View Premium gpl theme